Tarot
The Lovely Carmen of The Sun Tarot
The first time I saw the drawings of The Lovely Carmen of The Sun byJojanneke, I absolutely loved them. She designed all the Tarot cards herself and in the meantime this Tarot deck has been put in production.

The Lovely Carmen of The Sun Tarot will soon be available in this webshop.

Would you like to know more about her? You can contact her here at Hey Jay.


Loading...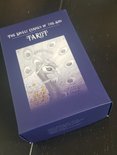 The Lovely Carmen of The Sun Tarot
Creepy Cute Steampunk

This is the theme of this unique Dutch tarotdeck. These 78 richly illustrated cards full of symbolism give you support and insight. No matter if you have big life questions or the simple questions of your daily life, The Lovely Carmen of The Sun will always give you an answer.

The Lovely Carmen contains 78 cards of 15 x 9 cm. The set will be delivered including a manual how to use the set and a description of the cards.

Pay attention: this product is not fabricated by Soul Insight, although it is avalable in this webshop. For questions about this deck and conditions you can contact Hey Jay.

If you have a question concerning the delivery of this set by this webshop you can contact Soul Insight.